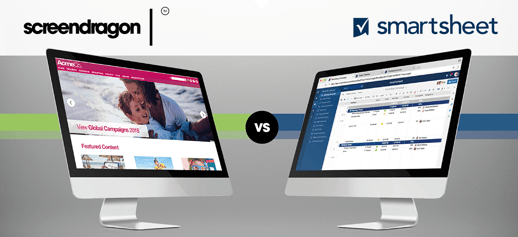 Are you considering Screendragon or Smartsheet as your work management solution? Maybe you are looking for a more robust alternative to Smartsheet?
In this 30 minute on-demand webinar, Screendragon v Smartsheet, we will provide you with a helpful compare and contrast analysis using these key topic areas:
Project Management
Briefing & Scoping Workflows
Resource Management
Digital Proofing & Approval Processes & More!

Submit the form on this page to access your video! > >
Presenter:

Greg Hides, Consulting Director, Screendragon

Greg is an experienced Group Creative Operations Director with over 25 years of experience tackling creative ops challenges in the marketing and advertising industry. Among others, Greg has held senior roles at agencies like Ogilvy, Geometry, and DraftFCB. He has spent several years using Screendragon and Smartsheet to manage studio and creative services.
Disclaimer: All references to Smartsheet and their product(s) are for information and comparative purposes only. We are not a­ffiliated, associated, authorized or endorsed by Smartsheet. Smartsheet and the Smartsheet Logo are trademarks of Smartsheet.