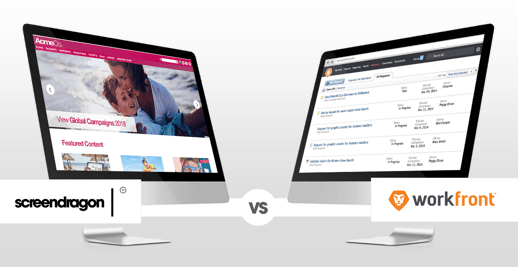 Are you looking for an alternative to Workfront?
Screendragon is a leading all-in-one work management platform designed for high-performing teams, in particular marketing and agency teams. We match Workfront in a lot of areas but the difference is we go further – further with functionality and further with design and UX. Even more, our fully integrated platform is extremely cost competitive.
Avoid poor adoption, expensive add-ons and facing limitation after limitation with functionality – not powerful enough workflow capabilities, insufficient permission levels and a lack of customizable options for form fields and more.
If you want to find out in more detail about how Screendragon compares to Workfront, our ultimate comparative analysis report compares both products in the following areas:
UX & UI
Digital briefs/ forms

Workflows

DAM capabilities

Resource management
Budget management
Collaboration
Submit the form on this page to download your copy of The Screendragon Vs. Workfront Comparative analysis.
Disclaimer: All references to Workfront and their product(s) are for information and comparative purposes only. We are not a­ffiliated, associated, authorized or endorsed by Workfront. Workfront and the Workfront Logo are trademarks of Workfront, Inc.