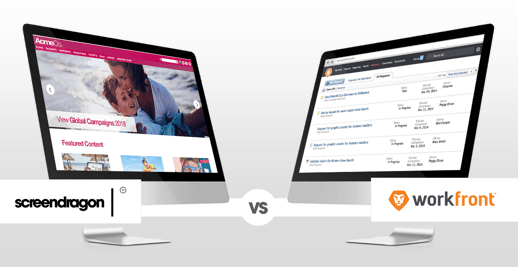 Are you looking for an alternative to Workfront?
Screendragon is a leading all-in-one work management platform serving global enterprises and agencies such as Kellogg's, Virgin Atlantic, BP and TBWA. We match Workfront in a lot of areas but the difference is we go that bit further – further with functionality and further with design and User Experience.
If you want to find out in more detail about how Screendragon compares to Workfront, our ultimate comparative analysis report compares both products in the following areas:
UX & UI
Digital briefs/ forms

Workflows

DAM capabilities

Resource management
Budget management
Collaboration
A must read if you're considering a platform like Workfront or if you're using Workfront and facing limitations in areas like permission levels, workflow capabilities, form fields – or perhaps you just want a more branded and customizable interface for your organization or agency!
Submit the form on this page to download your copy of The Screendragon Vs. Workfront Comparative analysis.
Disclaimer: All references to Workfront and their product(s) are for information and comparative purposes only. We are not a­ffiliated, associated, authorized or endorsed by Workfront. Workfront and the Workfront Logo are trademarks of Workfront, Inc.